Silver Rings
Queen Cleopatra was the last queen of the Ancient Egypt civilization. Her era witness the develop..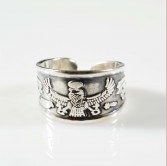 The Goddess Isis is one of the oldest gods of Ancient Egypt. Isis was the wife of god osiris and ..
This ring features some of the most icons of the egyptian civilization : King Tutankhamun, Ki..
Showing 1 to 15 of 15 (1 Pages)