Silver Rings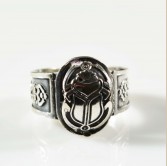 The scarab was widely used in Ancient Egypt as a source of good and fortune. The scarab was decor..
100 % pure Egyptian Ankh Silver ring. Ajustable fits all sizes. Weight: 8.5 Grams ..
The eye of horus symobilizes the eye of the falcon god Horus. The eye of horus was used by the ki..
Showing 1 to 15 of 15 (1 Pages)